Cultivating psychological resilience and self-awareness is a mindful journey, and not a destination.
– Hanan Dover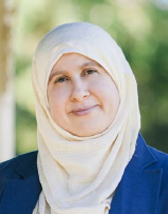 Hanan is an accomplished Clinical and Forensic Psychologist who had established one of the most successful psychology clinics that serve culturally and linguistic communities of Western Sydney, Psychcentral. Hanan Dover is also a Certified EMDR (Eye Movement Desensitization and Reprocessing) Therapist and a Certified PACT (Psychobiological Approach to Couple Therapy) Therapist. Hanan is the Vice-President of the International Association of Muslim Psychologists, Full Member of the Australian Psychological Society (APS) and the College of Clinical and Forensic Psychologists within the APS.
She is also an Executive Member of the Psychology from an Islamic Perspective Interest Group of the APS, and Convener of the Muslim Mental Health Professionals Network in Sydney. Hanan has served as an active Muslim community representative for over 20 years. She had founded Mission of Hope which is Australia's very first culturally and religiously appropriate health and community development not-for-profit / charity organisation.